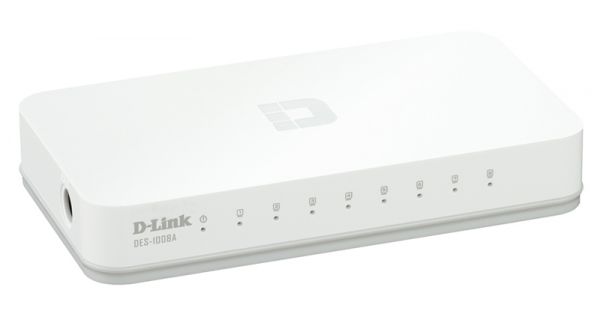 DES-1008A/E1
EOL EOS
מתג שולחני עם 8 פורטים במהירות 10/100Mbps (מארז פלסטיק)
היכן לקנות
תאור
The switch DES-1008A 8-port 10/100 Mbit / s allows you to quickly create a wired network . Connect the DES-1008A to multiple computers to share the files and folders , or connect it to a router to share an Internet connection.
 
High Speed ​​Networking
The switch DES-1008A is equipped with a port 10 /100 Mbit / s auto- negotiation , allowing a small workgroup to connect to devices with Ethernet and Fast Ethernet devices to create an integrated network. These ports determine the speed of the network and perform auto-negotiation between 10BASE-T and 100BASE-TX, as well as between modes of half-and full -duplex to provide each network device to the maximum possible speed.
 
Automatic determination of the polarity of MDI / MDIX
All ports DES-1008A support automatic polarity of MDI / MDIX, which eliminates the need for cross over cables or uplink ports and can be directly connected to each port on a server , hub , router, or switch using standard Ethernet- cable straight -through twisted- pair.
 
Flow control
All ports support flow control 802.3x. This feature allows you to prevent the loss of packets by transmitting a signal of a possible buffer overflow . Through the reduction of lost packets , the switch provides a more reliable connection for all connected devices while web- surfing , online games or access multimedia portals .
מאפיינים כללים
Device interfaces
• 8-port LAN 10/100 Fast Ethernet
 
Advanced features
• Technology D-Link Green
• Switch fabric : 1.6 Gbit / s
• Auto MDI / MDIX on all ports
• Safety circuit switching store-and-forward
• Energy IEEE 802.3az EEE
• Full / half duplex for Speed ​​Ethernet / Fast Ethernet
• IEEE 802.3x Flow Control
• Installation of plug-and-play
• Compliance with the RoHS Directive
• Support for Jumbo- frame 2048 bytes
 
Protocol
• CSMA / CD
 
Data rate
• Ethernet
  • Half-duplex 10 Mbit / s
  • Full- duplex 20 Mbit / s
• Fast Ethernet
  • Half-duplex 100 Mbit / s
  • Full- duplex 200 Mbit / s
 
Switching method
• Store-and-forward
 
Table MAC- addresses
• 2K
 
Study of MAC- addresses
• automatic updates
 
Speed ​​Packet Filtering / Forwarding
• Ethernet: 14,880 packets per second . the port
• Fast Ethernet: 148,800 packets per second . the port
 
Buffer RAM
• 96 KB per unit
 
Indicators
• Per port : Link / Activity
• On the device : Power
 
Interfaces transmission medium
• Automatic detection of MDI / MDIX on all ports
נתונים פיזיים
Measurements
• 141,5 x 78,5 x 23,8 mm
 
Power
• 5 V / 0.55 A DC power adapter
 
Heat release
• Power on . (Standby ): 2,0472 BTU / h (AC)
• Max .: 7,47228 BTU / h (AC)
 
Power consumption
• Power on . (Standby )
   Input power : 0.36 W ( DC) , 0.6 W ( AC)
• Max . : Power Input : 1.78 W ( DC) , 2.19 watts ( AC)
• The initial connection : Mode of EEE: 0,75 W (DC ), 1.1 W ( AC)
 
Temperature
• Operating: 0 to 40 C
• Storage: -10 to 70 C
 
Humidity
• Operating: 10% to 90 % (non -condensing)
• Storage: 5% to 90 % (non -condensing)
 
MTBF
• 2,137,319 hours
 
Certifications
• CE Class B
• FCC Class B
• cUL
• CB
• VCCI Class B